Privacy Policy
General
This statement shall inform the users of this website about the nature, scope and purpose of the collection and use of personal data by the website operator.

The operator of this website is: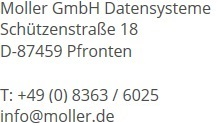 Data processing is based on the EU-GDPR, which allows the processing of data in order to perform a contract or measures prior to entering a contract.

We take your privacy very seriously and treat your personal information confidentially and in accordance with the statutory data protection regulations. Due to new technologies and the ongoing evolution of this website, changes to this statement may apply. Therefore we encourage you to review this statement from time to time.

Definitions of the terms used (eg "personal data" or "processing") can be found in Art. 4 EU-GDPR.
Data access
Data processing of this web site is performed by "Strato AG":

Strato AG
Pascalstr. 10
10587 Berlin
Tel.: 030-3001460
Mail: impressum@strato.de

When visiting a website hosted on Strato AG, technical data are automatically recorded in server log files. The logged data include eg:

- Website visited
- Access time stamp
- Amount of data sent in bytes
- Referrer URL
- Browser type
- Operating system used
- IP address

Strato AG stores IP addresses only to as far as required to provide their services, otherwise your IP addresses will be anonymized shortly after termination of the connection to this website. They will be stored by Strato AG for a maximum of 7 days to detect and defend attacks. The data processing of Strato AG is performed exclusively in data centers located in Germany and is completely covered by the German data protection laws.

Further information to this subject can be found here.
Personal data collection and processing
As the web site operator we do not store any personal data when you visit this website, do not forward data to third parties, do not evaluate your surf behavior in a statistic way and do not combine your data with other data sources.
Handling contact information
Please note, that data transmission over the Internet (e.g. upon communicating by e-mail) may have security vulnerabilities. If you send us a message via email, you voluntarily transmit personal data. A complete data protection from access by third parties is not possible. We need to store and process personal data in order to contact you, however, your data will not be shared with third parties, unless you expressly agree.
User rights
As a user, you have the right to receive, on request, information free of charge about which personal data has been stored about you. You also have the right to have incorrect data corrected and to block or delete your personal data. If applicable, you can also claim your right to data portability. If you believe your data has been processed unlawfully, you can file a complaint with the appropriate regulatory agency.

Data deletion:

As far as your request does not conflict with a legal obligation to store data (eg data retention), you are entitled to have your data deleted. As long as they are no longer necessary for their purpose and there are no legal retention periods, data stored by us will be deleted. If deletion is not possible because the data is required for legal purposes, data processing is restricted. In this case, the data is locked and not processed for other purposes.

Right of objection:

Users of this website can exercise their right of objection and object to the processing of their personal data at any time.

If you wish a correction, blocking, deletion or disclosure of your personal data stored, if you have questions regarding collection, processing or use of your personal data or if you wish to revoke your consent, please contact the website operator using the e-mail address stated at the fist section of this statement.